What Are Your Thesis and Abstract?
A thesis or dissertation is a lengthy paper that describes your personal research and is submitted with the aim of gaining a degree. It is written to a very precise structure to provide a concise description of the research that you have undertaken and the results that you found. Summary of research paper needs to be in a very precise academic style to a very high standard if you are going to get the degree that you are seeking.
The abstract or thesis summary is one of the first sections of your thesis, however, it will be one of the last parts that you will write. This is because writing an abstract within an academic paper requires you to summarize what the paper is about. This is so that anyone finding your paper will be able to understand just what your thesis is about without having to read through potentially hundreds of pages.
The abstract is usually a page of less in length; although you should always consult the precise requirement for your paper before you write it. It will cover every aspect of your paper so that anyone reading will be able to fully understand exactly what your paper is about.
As Philip Koopman writing for Carnegie Mellon University says:
"Because on-line search databases typically contain only abstracts, it is vital to write a complete but concise description of your work to entice potential readers into obtaining a copy of the full paper."
How to Write a Summary Thesis
Your whole paper must be completed to a very precise structure if you want your thesis or dissertation to be accepted. While the structure required may vary a little due to the specific subject that you are following and even the university or college that you are attending, it will typically look something like:
The Title Page
Summary or Abstract
Introduction
Methods Used
Results Discovered
Discussion
Conclusions
Bibliography
While the abstract or summary may sit at the start of the paper it is far easier to write when you have actually completed the paper as a whole; after all, it is a summary of what you have written. Thesis and dissertation summarizing do not have to be excessively difficult if you go about it methodically and take your time. The following guidance will help you with your thesis summary:
Ensure that you understand the summary of thesis format required as well as the word or page length so that you know precisely what is required of you.
Reread your thesis from start to finish to familiarize yourself with what has been written; many papers are written over many months or even years.
Make notes and highlight the most important points within each section of your thesis so that you identify the main points for inclusion within your summary.
Create an outline for your abstract writing using the notes that you have identified during your review of your thesis.
The abstract should cover the following areas:
The problem statement; what is the actual problem that you are looking to solve, what is its importance, what is the scope of your study?
The approach that you have taken; describe the methodology that you employed when conducting your research.
Results; what were the main findings of the research that you have undertaken. Be specific but don't try to include everything, just the most important findings.
Your conclusions; what do the results actually mean and how does this impact your topic area?
Very carefully edit your abstract to ensure that your summary is well written and does not exceed the allocated length allowance.
Proofread; allowing any form of error to remain in your summary is going to cause your paper to be returned to you and reduce your credibility significantly.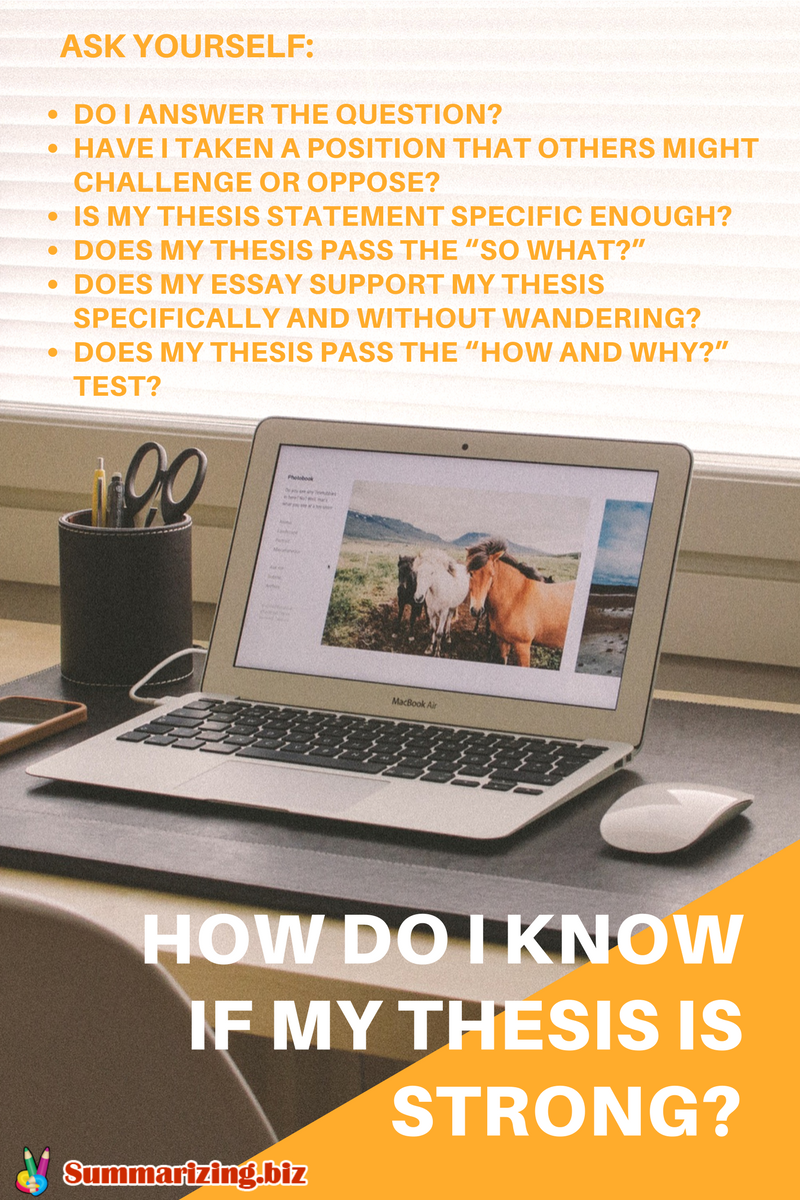 A Summary Thesis Example
Thesis summary examples are excellent ways to simply see just what areas should be covered within your own abstract. Obviously, a sample will never be something that you can copy but it will provide you with help in understanding just how your own must be put together.
The following is an example of thesis abstract writing from the University of Wisconsin.
"This research looks at the work of Margaret C. Anderson, the editor of the Little Review. The review published first works by Sherwood Anderson, James Joyce, Wyndham Lewis, and Ezra Pound. This research draws upon mostly primary sources including memoirs, published letters, and a complete collection of the Little Review. Most prior research on Anderson focuses on her connection to the famous writers and personalities that she published and associated with. This focus undermines her role as the dominant creative force behind one of the most influential little magazines published in the 20th Century. This case example shows how little magazine publishing is arguably a literary art."
How Can We Help with Your Abstract Writing?
Writing an abstract for your thesis is not a simple task and many students will struggle with it. With our specialized support however you get to work with true experts in your field that hold post-graduate degrees relevant to your topic area. They work with you closely to fully understand your expectations and will help you to put together the perfect abstract summary for your paper.
Find out, how to summarize a book with our team and get the best grades.
All work done is always unique to you with no copying. We provide a plagiarism report free of charge on all services and also provide you with proofreading to eliminate any possible errors. All of our services are covered by our full satisfaction money-back guarantee and are always delivered to you on time even for the tightest of deadlines.
If you need help with writing your thesis summary just contact our highly skilled and reliable specialists today for support that you can trust and afford.