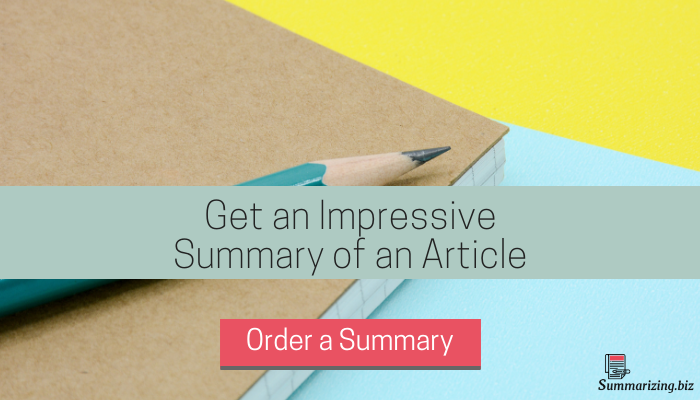 Why Would You Need a Summary of an Article?
We often have to write summaries for many different reasons. Often you will be asked to summarize the story you have recently read to show that you have actually done the reading and understood it. Understanding is often the most common reason for you being asked to create a summary. But we also need to create summaries to communicate the ideas raised in a more concise manner so that a reader can know what a longer piece is about without having to read it all. But being able to sum up an article quickly and also accurately is not always as simple a task as you would like.
To shorten essay or article length can often take a far longer time than you would like. Summarizing is something that many students struggle to learn. Yet they will often be asked to summarize, paraphrase or shorten a paper within their work. Our professional services have been helping students for many years and we are able to provide you with a huge amount of helpful advice and support that you can trust.
How to Sum up an Article Accurately
If you have been asked to shorten a paper, create a summary of a book you have just read, or any other task our professional advice can help you.
Steps that you need to follow to ensure that your summary will be created perfectly every time:
Make sure that you fully understand the requirements for what you have been asked to do, such as the number of words that you need to reduce the text to. Always remember that writing a good summary starts with understanding the text or article. Start by getting the gist of the material you need to summarize. Jot down the main points followed by the supporting points, ignoring the small details not needed in your summary. Reread the article, making sure that all the important information was noted.
Know who your audience is: who are you creating your summary for? Is it for academics that will want to know if a paper is relevant to their research or is it for teenagers that will want to know if a book is worth reading?
Understand the purpose of the summary: are you simply going to rehash essay papers to make them unique and shorter to use elsewhere or have you got to prove your point in a wider paper by showing what someone else's research has shown?
Start by reading the original text until you understand it fully: If you do not understand it then it will be very difficult to identify the main points that will need to be included in your summary.
Write your thesis statement. The thesis statement is the central theme of your summary. It will bind all the ideas you listed on the first step. You can choose to state it directly from the text like how most authors do it or you can rephrase and use your own words, as you deemed appropriate.
Read through each part of your article and analyze it carefully: highlight all of the main points that are raised within it.
Write a draft. Start combining your thesis statement to the other salient points you listed. Do not forget to use the proper citation in writing your draft. Take note of the author, title, and publication date of the material you summarized. Reread your draft, check the grammar then remove the information you find redundant. Make sure that your work is free from any personal ideas. A good summary does not contain any personal inferences from the author. You end your draft by condensing all your points in one sentence, telling the readers what knowledge they can gain from the article.
List out the main points that are raised within the text into your own words.
Create text outlines to organize your notes into a logical order for the purpose of your summary.
Create the joining sentences and phrases to provide your summary with flow and purpose.
Carefully edit and review your summary to make sure that it makes sense, reads well, and has covered all of the relevant points of the original.
Proofread what you have written to ensure that there are no errors in your spelling, grammar, and punctuation that could slip through and harm your grades.
Finalize your draft. After editing your first draft, take a final look of your work. Check your summary if the "WH" questions were answered. Check also the punctuations and spellings of the words. Ask someone to read your work and let them evaluate the cohesion of your ideas. After all of these were done, you can start writing your final draft.
Following the above advice will help you to create an accurate summary that will cover the required points for your summary. You could use an automatic article shortener however software cannot truly draw out the most important points. Summaries and paraphrasing can only really be done manually if you want useable results.
We Can Help Produce Your Summary of an Article
Most people look for easier ways on how to summarize a short story or an article. Since elementary days and now, even at work, writing a good summary has always been a demand – requiring anyone to master the art of summarizing. If you understand the basic strategies in summarizing, learning how to write a good executive summary once you become a professional will no longer be a problem. Just remember that it takes patience to understand how to write a good summary fully.

We offer professional summarizing help at a price that will simply not break the bank. We use professional writers that are academically qualified and highly experienced in this area. We will always provide you with accurate and unique summaries that have been carefully proofread.
Sum up an article perfectly by using our professional help and advice and get the results that you want every time!