Would You Need Help Writing a Play Summary?
Plays come in many forms from short single act performances through to full-length plays and even musicals. Some would characterize plays by a playwright such as Shakespeare as comedies, tragedies, and histories. No matter how you categorize them, however, plays are a rare opportunity to see in action what another has written in a way that just cannot be rivaled by what you will see on TV or in the cinema. As such, writing a play summary is a favorite for many tutors and you will often be tasked with this as an assignment. Your summary will need to capture the main parts of the play so that your reader will have a good grasp of just what the play is about. The reason for this is so that you can demonstrate a full understanding of what has been displayed through the theatrical performance. Often you will be asked to not only summarizing on what has happened but also to analyze it to discover the underlying meaning or moral being imparted by the author.
Summaries are not just written as assignments however, you may wish to create a summary as part of a larger paper or discussion. You may even want to write one for promotional purposes or even as a review within a newspaper or online. Whatever the purpose, however, you will need to learn how to capture the most important points of the play for your audience.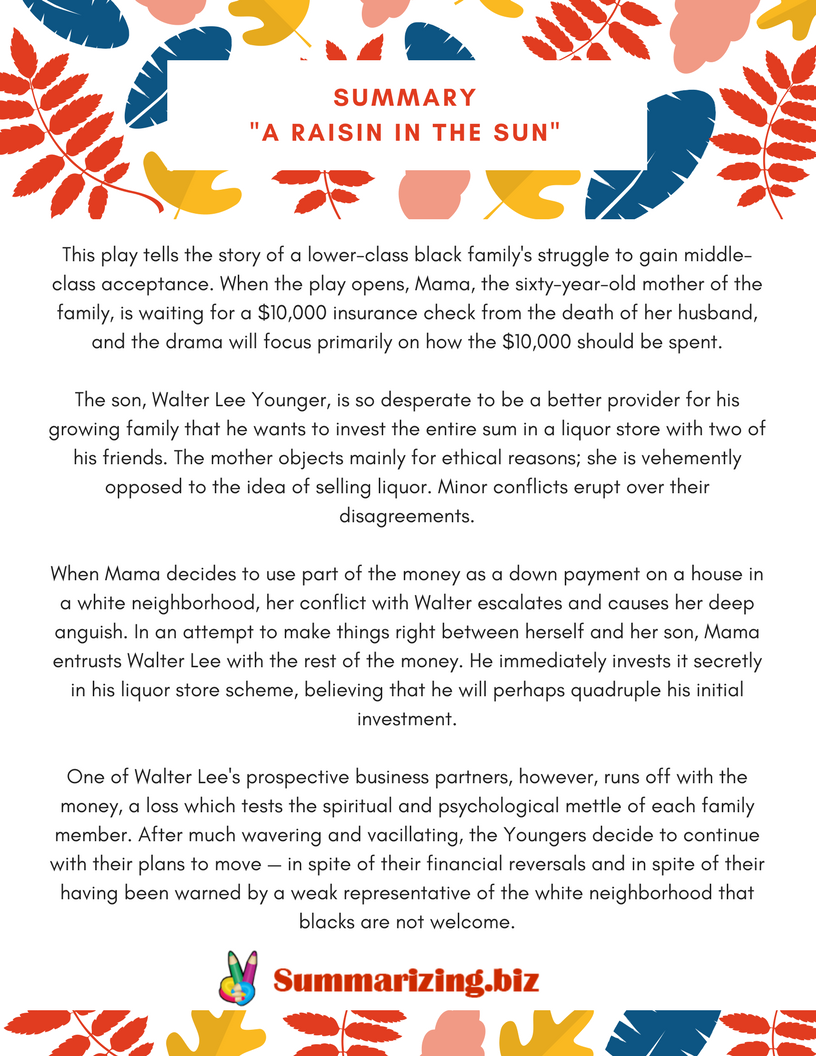 How to Write a Summary of a Play
Writing a summary is rarely as simple as just providing an outline of the plot. More often than not you are evaluating not just the actual storyline and characters but also the specific theatrical performance that you will get to see. So preparing yourself appropriately is very important if you are going to do it well.
The following guidance will help you to write a summary of a play effectively:
Ensure that you are fully aware of what the requirements are for your assignment; is this a simple summary of the plotline for the play, are you going to analyze the play, or are you looking at the whole performance as a whole? You need to be clear on this before you view the performance so as to know what notes you need to take.
Read the play through before you see the performance. Unless you are planning to sit through the play more than once it is often best to have a good understanding of the play before you actually get to see it performed. This will allow you to be better focused when taking your notes. You may also want to highlight areas within the play at this point that you feel are important or maybe even difficult for the performance.
Attend the performance and take notes; ensure however that you concentrate fully on the performance and not just looking at your notepad. You will need to consider all of the followings when watching the performance as well as the actual plotline of the play:

Has the director followed the play just as it was written or have they made any deviations? If so why have they made the changes?
Is the play as you expected or did you learn something different from watching it to simply reading it?
How were the costumes and the design of the sets? Were they as you imagined from reading?
How was the performance of the actors? Did they deliver in the way that you expected?
Were there any restrictions to how the play was to be performed due to the stage etc.
After the play discuss what you have seen with your fellow students to get their opinions also as to what they have observed.
Create an outline for your summary based on the notes that you have taken from which to write. If you are purely writing a summary based on the plot then that is all you should be including within your outline. More often, however, you will be expected to actually evaluate what you have seen.
Edit your writing very carefully to ensure that you have met all expectations for a format, length of summary and what you needed to cover.
Carefully proofread your writing so that there are no errors in your writing. Errors will have a significant impact on your grades as well as lower your credibility in the eyes of the reader.
Remember however, as George Bernard Shaw once said:
"In order to fully realize how bad a popular play can be, it is necessary to see it twice."
Example of a Play Summary
Summarizing a play is rarely easy, however looking at an example will often give you some good guidance as to what you should write and how you should structure it. Do not however simply copy what you find as that would be considered plagiarism and is not going to get you the results that you are expecting.
Of course, a summary can be as long or as short as required depending on the demands that are placed on you. For example, you could summarize a play such as Romeo and Juliet as follows:
"A girl and a boy from two families at war fall in love and then kill themselves."
Always ensure that you fully understand the requirements and write your summary in your own words at all times.
We Can Support Your Theatrical Summary Writing
Whether you need a simple summary or a full blown analysis of the play our experts are able to provide you with the support that you need. We offer our help through specialists that are highly experienced with all forms of academic summarizing and writing. They hold post graduate degrees in the specific areas in which they work so that you can always be sure of working with someone that fully understands the play that you are writing about.
All of the support that is provided by our specialists is guaranteed to be totally original and free of errors as well as being delivered within the deadline that was agreed. We provide you with a full satisfaction money back guarantee, unlimited revisions on all services, and some of the most affordable help you will find online.
To ensure that your play summary is worthy of the results that you are seeking just contact our highly skilled specialists today!