What Is a Conference Summary?
A conference is a meeting of people to discuss a topic. They often help by academics, businesses, political groups and many others. They can vary in size from a handful of attendees to many hundreds of people and may span anything from a few hours to many days depending on what is being discussed. Writing a conference summarizing will often provide those that have not attended with an idea as to just what was covered.
Conferences are big business, there are over 255 convention centers in the US. In addition to those, there are many more venues at different universities and colleges that are used on a very regular basis for different forms of conferences. Conferences provide an opportunity for the attendees to share their knowledge and discuss issues. Often, however, you will want to have a record of what has been discussed and will want to share that knowledge with others. Many times only one or two people from a department or business will attend a conference and will then need to share that information with others when they return. A conference summary is as much important and difficult as the thesis statement summarizes. Writing a summary to retain the most important points is an ideal way to share that knowledge.
Many also attend conferences for the purposes of continual professional development. Many will need to create a formal summary as part of their evidence to show what they have learned from attending. A summary seeks to highlight the most important points covered in the conference rather than repeating everything that was said verbatim. This allows the reader to get straight to the most important information without having to sit through all of the other information.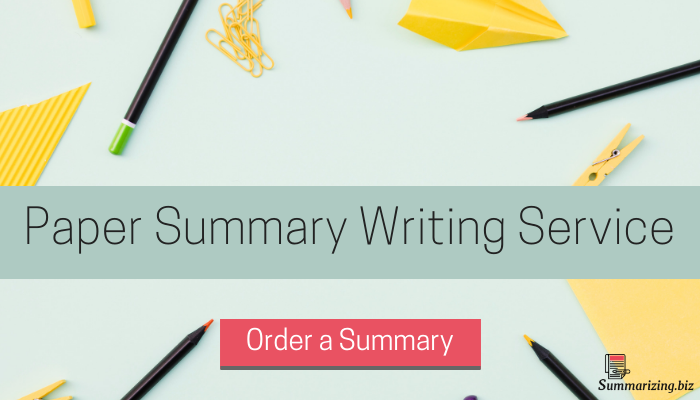 How to Write a Summary of a Conference
Writing a conference summary can be a difficult task, especially if there were many speakers and different areas that were covered. To tell the truth, it can be much easier for people who know how to summarize a news article. You will want to ensure that your summary will reflect the main areas that were discussed in sufficient detail for your readers to understand. The following advice and tips for writing your summary will help you:
Have a clear understanding of who your audience is and what the requirements are for your conference summary format. Ensure that you know exactly what the expectations are before you attend the conference as this will also guide your note-taking. You will need to understand if you are writing your summary for personal development, to communicate to your peers who did not attend or for other reasons.
Keep clear notes within the conference; identify who the most important speakers were, what the key ideas are that were raised and discussed, what was the final outcome of the conference?
Collect relevant information while you are there; most speakers will provide you with handouts or make their presentations available to those that request them.
With the purpose of your summary in mind create an outline for your writing. Typically you will need to cover:
Your introduction: what were the key aims of the conference, where was it held, who were the hosts, etc.
The main body should identify the key speakers, the specific areas that they raised and spoke around, the key points that came from their presentation, key points from the discussion after the presentation.
Your conclusion should cover how the conference itself was wrapped up and what was discussed or suggested as a call to action. If you're struggling to write one on your own, you can use our

article summarizer.

Edit your summary to ensure that you keep within the word count that is expected of you. Try to ensure that you don't cover side issues that are unimportant and also that you have not missed facts that are vital to the conference.
Proofread, your summary will be judged on how it is written and if you have not taken the time to eliminate avoidable errors then many will judge your summary as a whole as being poor.
Review a Conference Summary Example
Samples of what others have written are an excellent way to fully understand just what is expected of you for your summary. They can show you the correct conference summary format to use, the level of detail that should be covered and even the style of writing that you should use. Example conference summaries, of course, should only ever be used for guidance however and never copied in any way.
The following sample conference summary will help you with understanding what should be written:
"The conference was held on November 13th, 2015 at the headquarters of the hosts the British Standards Institute in London. The purpose was to discuss the impact of the new release of ISO9001: 2015 for the electronics manufacturing industry within the UK.
The key speaker was Dr. Ian Smith of BSI who summarized the changes in the new release of ISO with regards to the "Risk based" approach. He also discussed the changes that would be required for the auditing process and the time frame within which changes would be expected from certified companies. As expected this solicited a large amount of discussion from the attendees who generally represented companies that are already certified to the "old" version of ISO 9001.
This discussion was followed by a presentation by John Brown of Electo. Inc. who was a member of the panel responsible for the revisions to the standard and had spent the last several months updating their company's systems to the new release…"


We Can Help with Writing Your Conference Summary
Writing a conference summary can be a time-consuming task and as such many will want to use professional help to ensure that their writing is done to a high standard. Our experts work within fields in which they themselves are post graduate degree qualified and experienced ensuring that you will always get to work very closely with someone that really knows what they are doing.
They will help to draw out the most important points from your conference and to write your summary with your intended audience in mind. We also proofread all services so that you can be sure that your work is going to be free of errors.
Our services come with a money-back guarantee and we will revise your summary until you are fully satisfied with the end results.
To get the most effective professional help with writing a conference summary just contact our specialists today for a reliable and affordable support that you can trust!