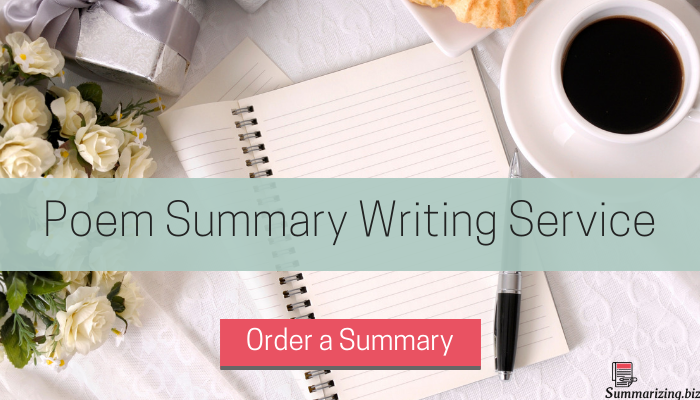 Simple Tips on How to Summarize a Poem Easily
Poems can be difficult to summarize given that you have to clearly understand the real meaning of the poem as for you to effectively summarize it. Summary of poems allow your readers to get the gist of the entire poem and this is extremely helpful especially for lengthy poems. When summarizing a poem, it is crucial that you select the words carefully and as much as possible stick to the message of the original content instead of using your own interpretation. Make sure that you read carefully the message of the poem in order for you to retain its message as you summarize it.
How to Write a Summary of Poems
Our experienced team of professional creative writers has put a list of tips to help you write the perfect summary of poems:
Read it several times. You have to read the poem many times and read it out loud as well. This will help you identify the topic and ensure you've understood its meaning.
Locate the meter. You should identify the structure and style in which the poem was written.
Examine each stanza. Scrutinize each verse, and write a few words that describe it.
Link each one of your sentences coherently. You don't want your summary to be chaos.
Analyze the poem and look for any symbolism. This is important to ensure you're explaining the essence of the poem correctly.
Follow them to ensure your summary is brilliant.
Summary of Poems: Quick Writing Guide to Ensure Its Excellence
When creating a summary of poems, you should be able to convey the message and ideas presented within the poems. 500 words summary gives you the advantage in order to easily understand the message, ideas, and context within the poem. If you do not know how to summarize a poem, make sure that you seek professional help online. Our company is one of the leading services online that can provide you quick, quality summarizing help. We can easily give you an extensive summary of poems in order to save you the time and hassle.
Summarize Poem Online with Help from Expert Writers
What makes us the best solution online is that we have the best team of writers that can easily address your specific needs. We can deliver you top-notch summary of poem that will definitely give you the leverage in order to effectively communicate with your audience. Our company is one of the legitimate services online that can provide you winning assistance anytime and anywhere you need to. Our 24/7 availability makes it easier for you to avail our services anytime you deemed necessary.
How to Order Our Services
Our summary of poems service consists of summing up any poem. For this, our writers will provide a brief overview of the poem while matching the writing style. They will also underline the main ideas to ensure you will be able to understand the text.
To order our services, you need to follow these simple steps:
First, you have to place your order. For this, you need to fill in the form on our website. You can do it either through our quote form or on our Order page.
Once you've uploaded the document and click the "Send" button, you will have to make a payment. Notice that we offer only secure ways of payments – you can place it via credit card.
After you've made the payment, you will receive a confirmation e-mail from our support team. We will start working on your paper ASAP and match a specialize writer or editor with your project.
They will write the first draft and send it to you. You will have to review it and provide any comments on the first draft.
Our writers will make any changes if you've asked for them, and send you the final document on the day you've requested.

Our Experts Can Help You Write a Summary of Poems
If you have to summarize poem, but you're not sure where to begin, contact us! We have an expert team of creative writers that can help you summarize a poem professionally. They have excellent English writing skills, a rich vocabulary, and a creative mind.
Their brilliant skills ensure you get an excellent summary. Our professional writers will revise your paper before they submit it, so you can be sure you will be able to print it as soon as you get it. They are specialized in creative writing, so our writers can analyze a poem and look for the important points to write a summary.
Let us help with your summary of poems writing or editing today!