What Is a Novel Summary?
Novels come in many different forms and genres from horror and science fiction through to romance. Often, however, we will be asked to summarize what has been written by the author; this can be to show that we have fully understood what has been written or even to produce a blurb for the book's cover to allow potential readers to know what the story is about. Writing a novel summary that is effective and that accurately reflects the novel, however, is not as simple as it looks. Summarizing seeks to provide the reader with an overview of the main points within a piece of writing. As such it gives you the opportunity to reduce the novel to as little as just a few paragraphs as you would for a summary within the back cover or maybe a page or two for a book review depending on the level of detail you have been asked for.
Writing a summary can be a difficult task and as such you will want to approach it in a very methodical way so that you get it right. You may use our summary tool, but don`t forget we will provide you with all of the help and support that you need to ensure that you write your summary in an accurate and effective way.
As Drew University reminds us:
"The ability to write an effective summary might be the most important writing skill a college student can possess. You need to be able to summarize before you can be successful at most of the other kinds of writing that will be demanded of you in college, and it is an important part of note taking, too."
How to Craft a Summary of a Novel
Learning how to write a summary of a novel does not have to be hard if you follow our expert and simple advice. We will help you to fully understand what your summary is and how you will need to go about organizing yourself to write it. Reducing a text to just a few paragraphs or pages requires you to fully understand what you have been tasked with writing about. So if you have the chance always choose a book that you like so that you have an interest in what you will write about. However, all too often we are tasked with writing a summary of a book that we would not usually read.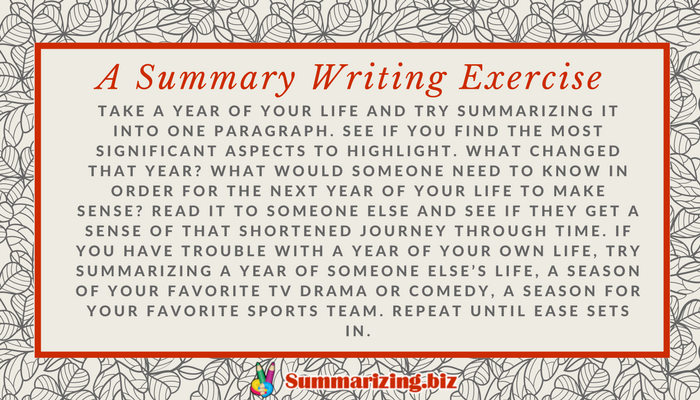 A good summary of a novel should be able to tell the reader accurately what the book is about, who the main characters are, and where and when the writing is set. It should walk the reader through the start of the works through to the conclusion.
The following advice for writing a summary of a novel will help you to organize your work in a way that will result in an excellently written piece of work:
Be clear as to the purpose of your summary before you begin. A summary of the cover of a book, for instance, is not going to want to give away too much about what happens, while a summary written for an assignment may need to cover the full plot of the book.
Read the work very carefully to ensure that you have a clear understanding of what has happened. Reading the last couple of pages of each chapter of a book that you don't particularly enjoy is not going to provide you with the information that you need as some people think. Your initial reading should be done straight through without making notes to get a good idea of what the book is about.
Read the work again this time taking the time to make notes. If you really do not have the time to completely reread the book as you often don't for school book reviews then skim through to where you know the main most important parts of the book are using the chapter headings.
Try to break your notes up to cover the important ideas within the novel. Is there a single plot line? Are there multiple characters that you will follow? Is there a clear start, middle, and end to the book?
Identify any major points of importance within the book. Did something major happen to make the main character act the way that they have done, etc?
Create an outline for writing a summary of a novel. Use your notes to craft out an outline of your summary. Use the main points from your notes as the guideline for what you will write. This outline should not be overly detailed as bullet points will be enough to guide your own writing.
Your opening line or two should seek to tell the reader the main theme or idea behind the entire work. You should try to write this opening in as interesting a way as possible to fully grab the attention of the reader so that they will want to read more of what you will have to say.
The next area should summarize the main plot of the novel from start through to the finish. This should follow the structure and flow of the book and should be brief and to the point. Keep in mind the word count or page limit that you need to keep to when writing so as to prevent yourself from overly expanding on what you have to say.
Read your summary and edit it to reduce the length to your requirement. Most of the time you will find that an initial draft summary will be longer than is required and you will need to reduce the length. This can be done by removing wording that is unnecessary, removing minor side plots or characters, and if you are writing a pure summary removing any interpretation or analysis that you may have added.
Ensure that your ending is appropriate for your purpose; for a school assignment, you will want to summarize the end of the book in much the same way as you have the main part of the plot. However, if you are writing for other purposes you may want to build some excitement without giving away anything at all about how the book will end.
Proofread everything that you have written, simple mistakes in your spelling and grammar are avoidable and will have a major impact on both your grades and how your work is perceived.
So, now you have some tips how to write your summary of the novel. But what to do if your task is a play summary? Find more information on our website.
Mistakes Made When Writing a Short Summary of a Novel
There are many things that you can do incorrectly when your write a short summary of a novel in your own words and these should be avoided:
Don't include too much or even too little information in your summary
Don't concentrate on insignificant details within your summary at the expense of major plot areas
Don't forget to cite quotations that are made using the original wording
Don't make interpretations or analyze what has been written if your purpose is only to summarize
We Can Help to Summarize a Novel
Whether a short document or a full blown novel we have the skilled staff available to help you with all of your summarizing needs. We offer our help through post-graduate degree qualified staff that have many years of experience with summarizing.
They always work closely with our clients to fully understand the purpose and aims of your summarizing and will provide you with help to submit a summary that will be perfectly written. All of our support is delivered on time and comes with a full satisfaction money-back guarantee.
Should you need help writing a novel summary just contact our specialists today for affordable and reliable help that you can trustfully!